About us
Overview
The Department of Neuropsychiatry, The University of Tokyo is Japan's oldest psychiatric department that was established in 1886. "Anti-Psychiatry" movement for the last 3 decades had highly negative effects on the progress in all aspects of our activities. Since 1994, however, our department has been normalized and restarted to play a leading role in psychiatry in Japan. We are now dedicated to high quality clinical services, excellent training and education for students, and innovative research.
Department's Perspective
Kiyoto Kasai, M.D., Ph.D., Professor and Chair (see his CV here)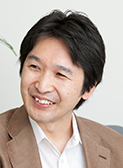 As one of the leading departments of psychiatry in Japan, we have been working on establishing a new concept of "value-based" psychiatry, which can be illustrated by a dynamic triangular conceptual model integrating the brain, real world, and life course.
Thinking of the brain in relation to the mind and body in a holistic approach to psychiatry, our clinical areas of focus or emphases include general hospital psychiatry and neuropsychiatry, where we provide consultation-liaison services and treatment of epilepsy and dementia. In addition to our clinical work, we have consistently led research promoting biological psychiatry in Japan, exploring the very latest in neuroimaging and molecular genetics, among others.
What also makes us truly original as a leading neuroscience-based university department is that we have gained a real-world perspective on psychiatry, having driven the development of psychiatric rehabilitation strategies from the forefront, including value-based psychotherapy, social skills training, and employment support for young people with schizophrenia. Recently, as well, we have dedicated ourselves to providing psychiatric care to survivors of the 2011 Great East Japan Earthquake through a range of acute- and chronic-phase community mental health activities. Anticipating the future in neuroimaging within current psychiatric care contexts, we have developed a neuroimaging-aided differential diagnosis system for psychiatric disorders utilizing near-infrared spectroscopy (NIRS) that enables brain hemodynamic responses to be measured fully non-invasively and freely, without constraints. The application of NIRS to clinical settings would be an important endeavor of next-generation neuroimaging research integrating neuroscience and real world experiences and needs of an individual person.
We are also well aware that a life-course view of individuals and psychiatry is highly essential. Recognizing the importance of adolescence as a critical developmental stage for establishing one's sense of self and value/worth, we have recently started a large-scale longitudinal adolescent cohort study (Tokyo TEEN Cohort). Along with our integrative research on early intervention for psychosis (IN-STEP/3R), we look to deepening bi-directional understanding of well-being in adolescence as well as recovery from psychosis.
Our dream as pioneers of cutting-edge psychiatry is to train the next generation of psychiatrists and mental health professionals who will be able to provide integrative approaches incorporating biological psychiatry and person-centered community-based care to an individual with psychiatric disorders.
APA-TV:A Person-Centered Approach
Staff
Professor

Kiyoto Kasai, M.D., Ph.D.

Associate Professor

Chihiro Kakiuchi, M.D., Ph.D. (Psychiatric Genetics)
Hidenori Yamasue, M.D., Ph.D. (Neuroimaging, autism spectrum disorders)

Lecturer

Seiichiro Jinde, M.D., Ph.D. (Molecular psychiatry, epilepsy)

Instructor

Shinsuke Kondo, M.D. (General hospital psychiatry)
Kayo Ichihashi, M.D. (Child-adolescent psychiatry & liaison-consultation)
Go Taniguchi, M.D., Ph.D. (Epilepsy)
Kenji Kirihara, M.D., Ph.D. (Electrophysiology)
Takeshi Okamura, M.D., Ph.D. (Geriatric psychiatry)
Akira Wada, M.D., Ph.D. (General hospital psychiatry)
Ryu Takizawa, M.D., Ph.D. (Near-infrared spectroscopy; psychiatric epidemiology)
Tomoko Andou, M.D. (Child-adolescent psychiatry & liaison-consultation)
Yoshihiro Satomura, M.D., Ph.D. (Near-infrared spectroscopy)
Fumichika Nishimura, M.D., Ph.D. (Psychiatric Genetics)
Mariko Tada, M.D., Ph.D. (Electrophysiology, early psychosis, palliative care)
Shinya Fujikawa, M.D., Ph.D. (Psychiatric epidemiology)

Psychiatric social worker

Tomoko Ishiura
Koharu Senkawa

Clinical Psychologist

Junko Hamada
Yumiko Okamura
Collaborative Divisions
Department of Youth Mental Health
Research Associate Professor

Tsuyoshi Araki, M.D., Ph.D.
Department of Child Neuropsychiatry
Associate Professor

Yukiko Kanou, M.D., Ph.D.

Instructor

Yuki Kawakubo, Ph.D.
Ayaka Ishii-Takahashi, M.D., Ph.D.
Yosuke Eriguchi, M.D., Ph.D.

Clinical Psychologist

Satoshi Eguchi
Department of Rehabilitation
Instructor

Motomu Suga, M.D., Ph.D.

Clinical Psychologist

Yumiko Fujieda
Kimiko Shimizu

Occupational Therapist

Aya Ishibashi
Tetsuji Itou
Ken-ichi, Yano